Dental Brace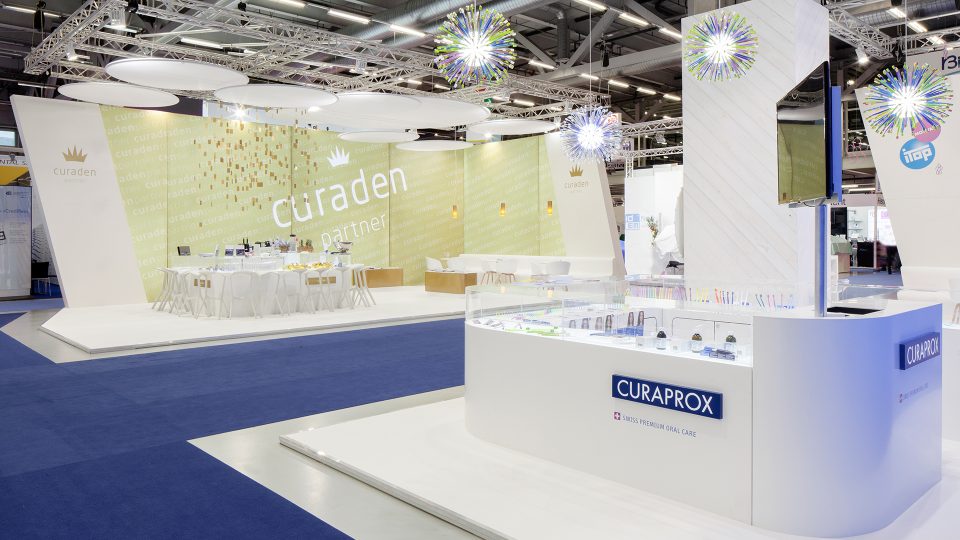 The assignment
Development and realisation of the Curaden Group's trade fair presentation at Dental Bern.
The challenge
Presenting altogether seven Curaden brands and services on four stand spaces which were traversed by two aisles. Each one individually identifiable, yet clearly part of a family.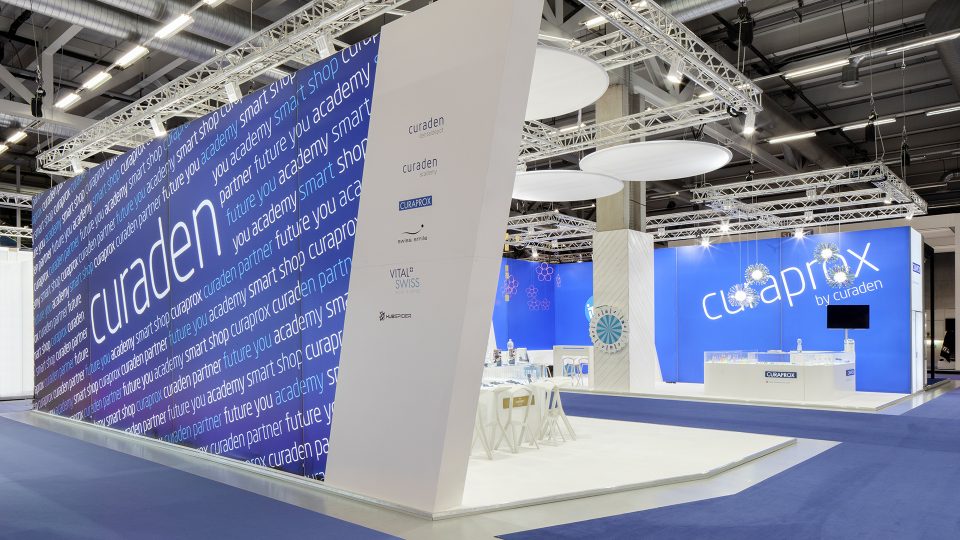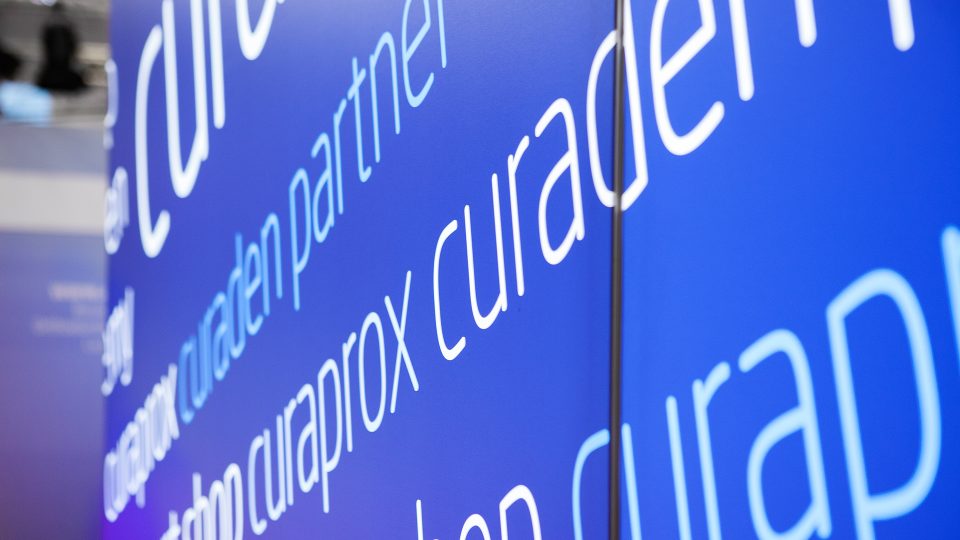 The idea
The aim of the concept was to present all Curaden brands in one corporate area. The outside edges of the four areas were bracketed by wall sections and marked on the outside as theCuraden Group's exhibition stand. The interior space was divided into six brand areas: Curaprox, iTop,Curaden Academy,Curaden Dentaldepot,Curaden Partner and Vital Swiss. This created a clearly legible brand space where the wide range of products was seen within an overall concept. The crossing aisles were seen as part of the stand space.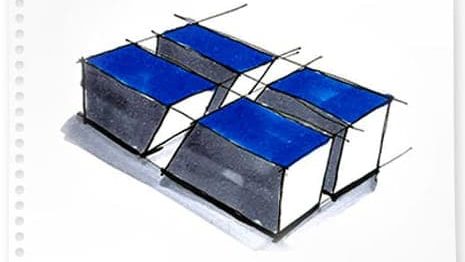 The details
Looking for the dental face of 2014″ – under this motto, models in the making were professionally styled and then photographed in the Curaden Academy section. Of over 120 participants, one winner was elected via Facebook and presented with a trip to Rome.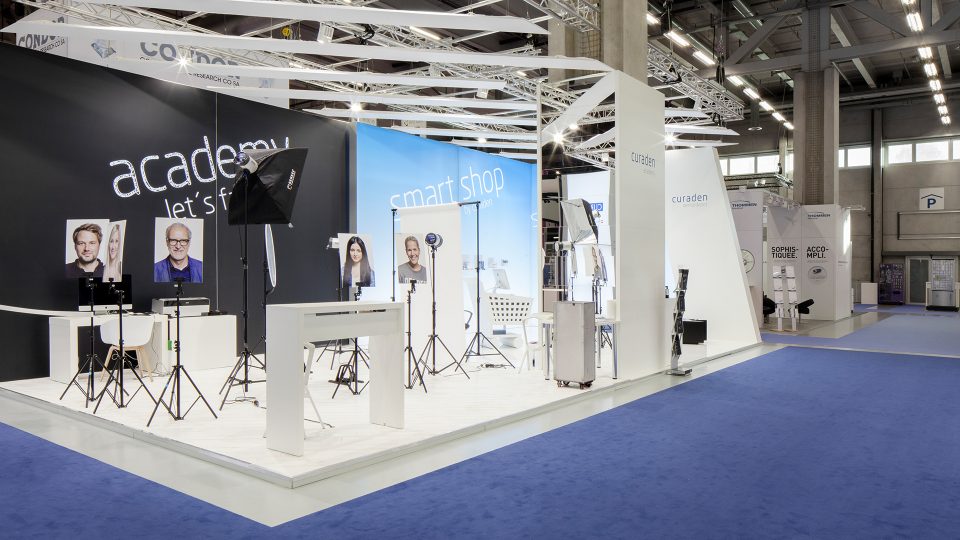 Curaden Dentaldepot's bonus programme Curaden Partner invited visitors to take a break at its bar. All eyes were drawn to a shower of gold consisting of over 400 Curaden partner cards above the stand.
Visitors were able to experience the dental practice of the future in the "future you" section. This presentation focused on the connection between equipment and services in the dental practice.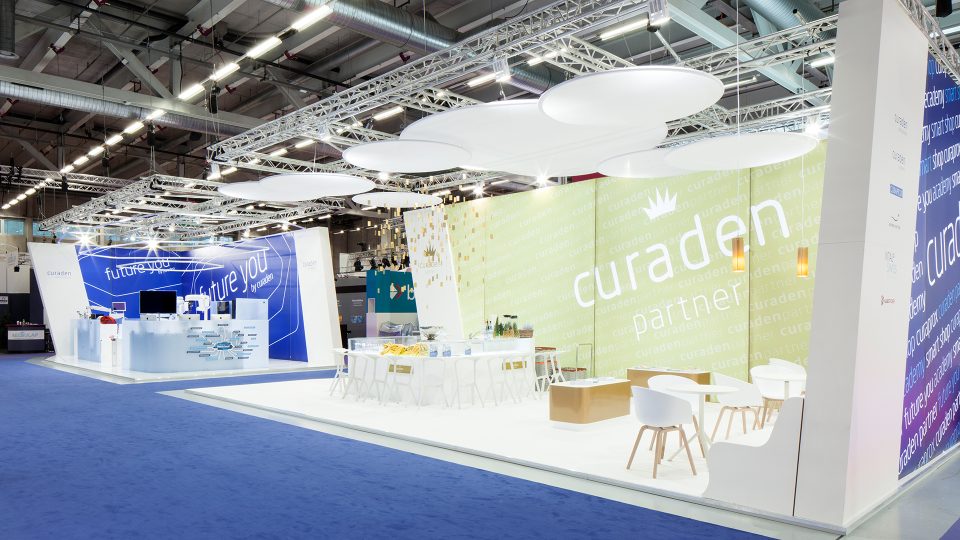 Curaden Dentaldepot's online services were presented in the "smart shop" section. In a tongue-in-cheek style, the digital icons from the online shop appeared as exhibition furniture. Visitors were able to visit the online shop live from monitors built into a shopping trolley.
Huge dandelion-like chandeliers made of toothbrushes that were suspended above the Curaprox information desk marked the nucleus of the company: colourful products that are popular not only because of their dental and hygienic benefits but also because of their design quality. Visitors had the chance to win these products at the wheel of fortune with its oversized toothbrushes.
In the iTop section, visitors were able to find out more about dental hygiene and have their smile polished directly at the stand.
Services:

Design, Management

Area:

288 square meters

Duration:

22. – 24.05.2014

Construction time:

1 month

Photos:

Annika Feuss