ABDA

Lobbying Activities

Since 2007 we have built up the ABDA lobby stand over 150 times, transported it for some 110,000 kilometres and provided 5000 apples and pears, give or take a few.
The BriefTo design and implement a reusable, modular exhibition system for the Federal Union of German Associations of Pharmacists ABDA. As well as creating a high-quality, modern and eye-catching design, we are also charged with the logistical delivery support for at least one event per month.
The Challenge Creating a modular design that is flexible enough to remain interesting, whether it covers 10 or 50 square metres. ABDA will be present at political events as well as small health and lifestyle shows.
The IdeaThe hotel lobby is a place of relaxation and communication. This is our inspiration behind the public/private platform that we deliver to ADBA.
The Reality
Comfortable sofas under voluminous lampshades, a warm and inviting atmosphere, fresh flowers and fruit – the owner-managed pharmacies present themselves as a modern service centre. On the platform, contacts are made in a relaxed and laid-back environment, informal discussions are held and subjects presented.
Touchscreen monitors convey engaging facts and stories about owner-managed pharmacies.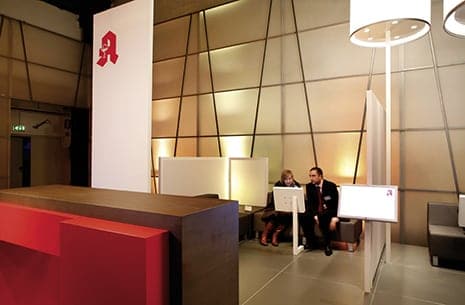 The DetailsA unique construction conducts static through the entire base, so power and data cables disappear from view. The lampshades and free-standing wall modules do not require heavy base plates, creating an light and open space for communication.
Several stand-sets have been on tour in Germany since Autumn 2007. They pop up at trade fairs, party congresses and other events. The specially developed service package for the stand includes all logistics, stand construction, organisation and provision of equipment for special events.
Photos: Uli Grohs